Started our three day tour from Heathcote (southern suburb of Sydney) heading down the Old Princes Highway, which gave a few twists and turns to start us off to our overnight stop at Bungendore.
Down the M1 to Yallah and where we headed the back way into Albion Park which gave us some more great country roads and a good lead in to what was about to come: Macquarie Pass.
Thankfully we had an unhindered and unobstructed run up the Pass which allowed us to have some fun (all within the legal limits of course!) on one of the great riding roads and on up to the Robertson Pie Shop for some human refueling.
From there we went through Robertson and turned onto Pearsons Lane which took us through Wildes Meadow, to Myra Vale Road onto the Nowra/Moss Vale Road and then down the twists and turns to Kangaroo Valley which was again pretty unhindered by slow traffic that allowed us to enjoy the run. Through Kangaroo Valley and the twisty climb up to Cambewarra Mountain then the run down the other side (sadly behind a caravan) and back onto the Prices Highway at Bomaderry through Nowra to a refueling stop. Just out of Nowra we took the BTU Road and up and over Nowra Hill, passed the Albatross Airbase and onto the Braidwood Road and out to Nerriga. The Braidwood Road gives a great mix of straights and curves that keeps you entertained for the run to Nerriga Pub and the awaiting lunch.
Once fed and watered we hit the road again on the last leg of day one. Down the Braidwood Road and turn into the Oallen Ford road across the Shoalhaven River, down to the Sandy Point road turn continue on to the Cullula Road through Tarago and the final run into Bungendore and a well earned beer at the Royal Hotel to finish our ride for the day after 330kms.
Day 2 - Set off from the Royal Hotel and out to the Federal Highway, cross over and head to Sutton, Gundaroo (and passed the Royal Hotel!), Gunning, Crookwell, Boorowa, Cowra and lunch at the Imperial (closest thing we could find to a Royal Hotel!). From Cowra we headed out of town and took the turnoff to Woodstock and a photo outside the Royal Hotel, through Lyndhurst (didn't stop at the Royal there) onto Mandurama and another Royal Hotel photo, Carcoar (no Royal photo there either!) on through Blayney (too much traffic to get a decent Royal photo) and finished the day at the Kniclerbocker Hotel in Bathurst (which is next door to the now defunct Royal Hotel) and another well earned beer after about 400kms of riding in weather that turned out to be hotter than expected. The entire trip from Bungendore to Bathurst were some of the best we have ridden and the scenery was spectacular and varied and included a lot of grasshoppers/locusts which gave off an interesting odor when we stopped after cooking on the hot engines.
Day 3 - Left the pub and did two laps around Mt Panorama (limited to 60kph sadly!) but it was still a great buzz so soon after the Bathurst 12 hour. Today is a shout run of about 220km and pretty uninteresting given that probably half of it is back in stop start traffic or expressway from Mt Victoria back to home base.
Well close to 950kms in three days on some fantastic riding road on offer - good time? You betcha!
Trucktoe.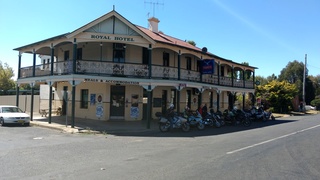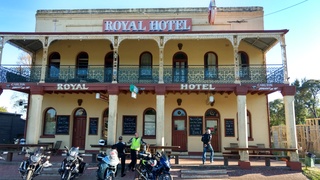 Mandurama                                                             Woodstock                                                                Bungendore

Last edited by Trucktoe on Fri 03 Mar 2017, 11:01 am; edited 2 times in total (Reason for editing : Photos added)

_________________
Trucktoe
2012 Kawasaki Versys 1K
White
SW Motech Panniers Panniers
SW Motech Top Box
GME two way and Sena SR10

Vale'
GSX1250FA
Blue
Givi Top box and Panniers



Posts

: 55


Join date

: 2014-05-23


Location

: Chiang Mai, Thailand



Thanks for the report, I've been toying with the idea of a multi-day tour only staying at Royal Hotels, in my travels I've noticed that they are ubiquitous.

_________________
Cheers Peter
'96 1200s Bandit
2007 DL1000 V Strom



Posts

: 2212


Join date

: 2009-08-20


Age

: 60


Location

: Newcastle



Sounds like a pretty good ride, I've ridden Kangaroo Valley years ago in the opposite direction, loved it.
Here is one of my 2 locals, the Hotel Royal in Torrensville (Adelaide)



Posts

: 3413


Join date

: 2012-01-20


Age

: 54


Location

: Between the City and Beach, Adelaide



@Re-Cycled

wrote:Thanks for the report, I've been toying with the idea of a multi-day tour only staying at Royal Hotels, in my travels I've noticed that they are ubiquitous.
Hi Peter
You are spot on; there are hundreds of Royal Hotels about and that is why I thought that I would follow a route of them but I have only scratched the surface. This could end up being a regular event so as to tick a few more of them off the list!
TT

_________________
Trucktoe
2012 Kawasaki Versys 1K
White
SW Motech Panniers Panniers
SW Motech Top Box
GME two way and Sena SR10

Vale'
GSX1250FA
Blue
Givi Top box and Panniers
Hey Chook

Yeh the ride was terrific and the weather was kind to us albeit hot so the beers went down a treat at the end of the day. Your Royal looks like its a nice watering hole: we may have to look at broadening our Royal Tour horizons!

Cheers

TT

_________________
Trucktoe
2012 Kawasaki Versys 1K
White
SW Motech Panniers Panniers
SW Motech Top Box
GME two way and Sena SR10

Vale'
GSX1250FA
Blue
Givi Top box and Panniers

---
Permissions in this forum:
You
cannot
reply to topics in this forum