Well after 3 sharks and 2 being replaced due cracks in the shell. One was due falling of a petrol bowser and the other just Mysteriously appeared, honest i didn't not drop it Mr Shark Rep it just appeared. and there was a lot of mucking about to get it looked at so i decided that it was time to part ways with mr shark helmets .
Enter the AGV K3 SV basically its a helmet in a hurry. I walk into the local bike shop RJays nope, Shark not again, Shoei yes but didn't fit my head, Dri rider looked good but no drop down sun visor, Arai, to expensive and didn't fit my head, AGV hey this comfy a little cheaper than i want to spend because its a Tupperware helmet and yes i have lost the lid, 3 stars of the crash tests apparently in a crash my head will act like a basket ball, Easily fixed don't crash. 
its got pretty good features, Vents that actually work, in the top and front. drop down sun visor, Click up visor for anti fogging. Its very comfortable and no more noiser than the shark, It has a glove friendly neck strap, Vision is good but not as good as the Shark Visor R. Weight is good and its fits my scala no worries and its more aero dynamic than the shark too.
For $240.00 its appears to be good values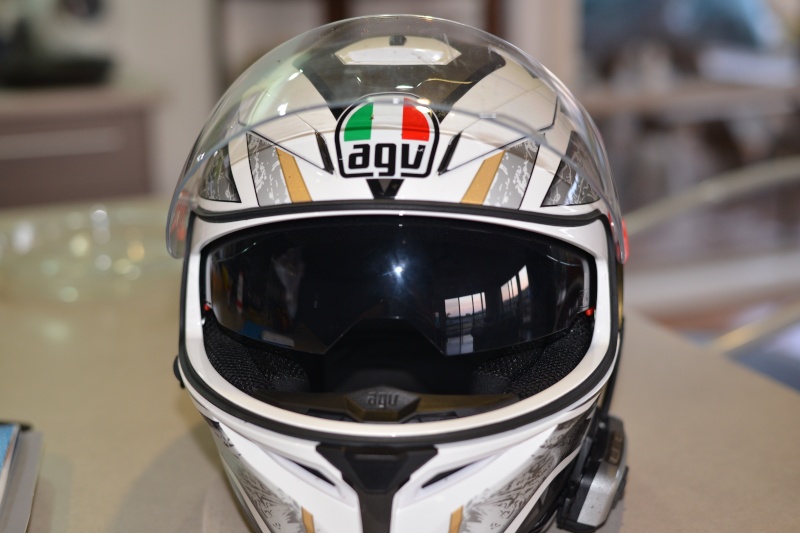 _________________
Blue GSX1250FA
If the Shark cracked that easy ,I think I would rather the $ 240 Agv .............I used to use AGV , but HJC seems to fit my noggin better ( might be worth revisiting then though )

_________________
Four wheels move the body. Two wheels move the soul.










Posts

: 7359


Join date

: 2011-08-19


Age

: 66


Location

: Morphett Vale Sth. Aust.



Dri rider helmets! really? Didn't know they made one.
Sunvisor not as good as the shark? the shark one is crap! not dark enough, I'd hate to see what the AGV one is like!
As long as it works for you Jim. Though I wouldn't be tarring all sharks with the spontaneous cracking brush. Plenty of them out there and with good reviews. However I still think mine is too noisy, and the visor doesn't seal properly, its too heavy, its fits too close to my mouth, did I mention the sunvisor

But hey it looks good

_________________
2011 GSX1250FA in Candy Indy Blue
2018 BMW R1200RS Exclusive



Posts

: 4124


Join date

: 2011-10-19


Age

: 55


Location

: Carrum Downs, Victoria



@Jimcoleman

wrote: Arai, to expensive and didn't fit my head, 
I don't mind paying for quality (last time I spent under $500 would have been early 80's) but I've found the Arai to be claustrophobic every time I've tried one, comfy, fits my head well, but no room between my chin and the front of the helmet
@madmax

wrote:Dri rider helmets! really? Didn't know they made one.
x2



Posts

: 3399


Join date

: 2012-01-20


Age

: 54


Location

: Between the City and Beach, Adelaide



@Chook

wrote:

@Jimcoleman

wrote: Arai, to expensive and didn't fit my head, 

I don't mind paying for quality (last time I spent under $500 would have been early 80's) but I've found the Arai to be claustrophobic every time I've tried one, comfy, fits my head well, but no room between my chin and the front of the helmet

@madmax

wrote:Dri rider helmets! really? Didn't know they made one.

x2
They certainly do

_________________
Blue GSX1250FA
looky looky Iridium internal Visors 

http://www.motardinn.com/motorcycle-equipment/agv-internal-sun-visor-isv-for-helmet-k3-sv-horizon-skyline-numo-numo-evo-strada/25327/p%20?q=AGV%20K3

_________________
Blue GSX1250FA

---
Permissions in this forum:
You
cannot
reply to topics in this forum