Ok Guys so this is my first ride report, it turned out too be a bit of an adventure. 
It was a beautiful day last Sunday. 25 degrees no wind and no clouds, perfect riding weather. So Mad Max and I jumped on the bikes and headed to a little café I had heard about in Yea. 
The ride started off from Carrum Downs Victoria and we headed up through Berwick and into the twisties.
The sun was out, the roads were clean and the traffic was light as we headed up past Cardinia reservoir and made our way north meeting up with the Maroondah Hwy just before Healesville.
Looking back now this is where the adventures began! 
We turned right out of Healesville-Koo Wee Rup Road into Maroondah Highway and Mad Max hit some stones on his Bandit as he accelerated across the intersection resulting in an unintended but spectacular power slide as the back of the bike stepped out. Luckily He caught it and we continued on. 
We stopped for a stretch around the corner in Old Lilydale road before continuing on to Healesville-Kinglake Road where Mad Max was almost cut off by a woman who pulled out in front of him. He hit the brakes and the horn and she swerved back into the oncoming traffic where a Porsche Boxster had to slam on the brakes and stop to avoid a head on with her!
We continued on along Healesville-Kinglake Road having a great time until around a blind hairpin corner we came across some fresh resurfacing with loose stones over the road. How we both stayed up I will never know. There were no warning signs, THANKS Vic Roads! 
Then it was my turn for trouble. Another few kilometres up the road I hit some loose gravel. The front wheel washed out and I did everything I could to keep the bike upright but I crossed the centreline and headed into the muddy shoulder on the right side of the road. Luckily nothing was coming the other way. I ended up in the ditch against a muddy cutting. 
The R&G crash knobs certainly paid for themselves saving both sides of the bike from any damage.  Try as I might there was no way I was going to get the bike out on my own. Every time I tried it just ploughed a deeper groove. As Mad Max was out in front he hadn't seen it happen. I figured he'd soon notice I wasn't behind and come back. It was disappointing to see two other motorcyclists ride on by without stopping. Then an older couple in a 4X4 stopped and helped me get it out of the mud and back onto the bitumen, just as Mad Max returns, typical after all the work was done!
With both tyres and the brakes now caked in slippery wet mud I gingerly road it out through the rest of the twisties slowly building up speed as the tyres cleared. Once onto the Melba highway It was good to see Mad Max pull into a servo and head straight for a fire hose. With the bike now cleaned of the mud we headed into Yea for a late lunch.
The Red Plate Café doesn't look like much from the outside but its well worth a stop if you're passing through Yea. The owner has themed the place for motorists and motorcyclist alike with some old motorcycles on display inside. The food was also pretty good.
Leaving Yea we head east towards Alexandra, turning off down Whanregarwen Rd, another good bike road with lots of fast sweepers, then onto Buxton. After Buxton of what must have been the slowest ride through the black spur ever! Probably just as well too as the boys in blue were out in their camo gear hiding in the bushes radioing ahead to a waiting patrol car. We returned to Healesville to refuel.
Now heading home we chose the route through Don Valley, Launching Place, passing through the Kurth Kiln Regional Park - another awesome stretch of road. Then onto Gembrook, Cockatoo and back through Berwick and onto home.
Map of our route
More photos to follow,



Posts

: 6


Join date

: 2013-11-09


Age

: 49


Location

: Skye, Victoria



All Clean and ready to go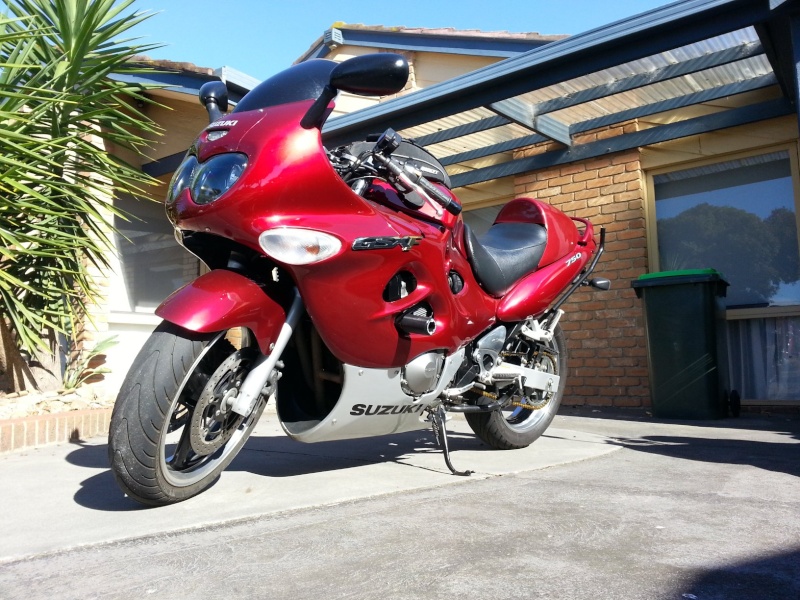 Healesville-Kinglake Road
This is the wall my GSXF ended up against in the ditch. I even tried using tree branches to get traction to get out with no luck.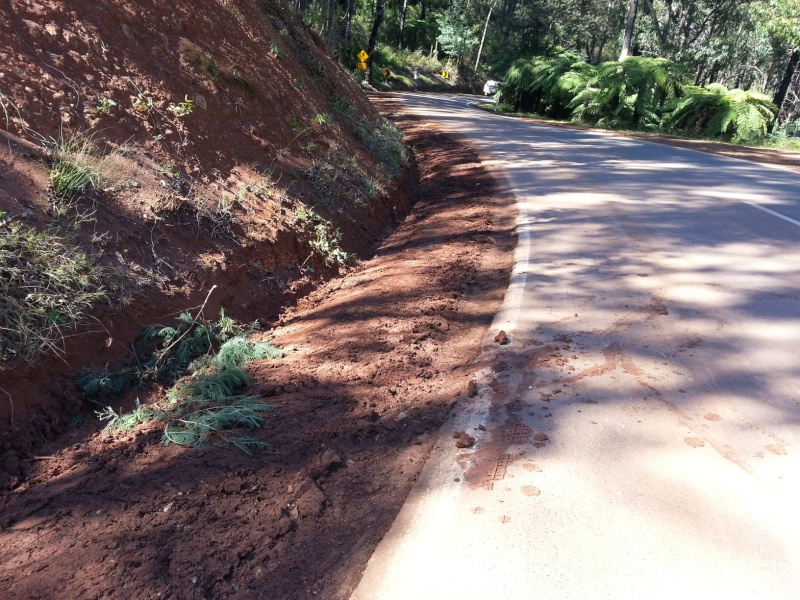 After pulling it out, What a mess!!!
Washing off the mud at a Servo on the Melba highway and finding no damage, Thank god....... and R&G
I really did make a mess at that Servo,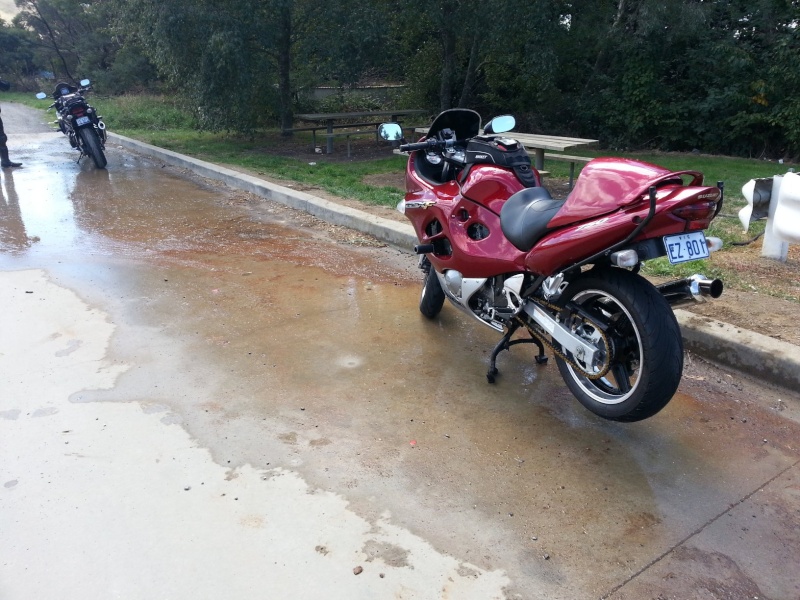 The Red Plate Café
There's lots to look at in this place and well worth the trip.
Stopped at a lookout for a few photos on Maroondah Hwy at Acheron heading home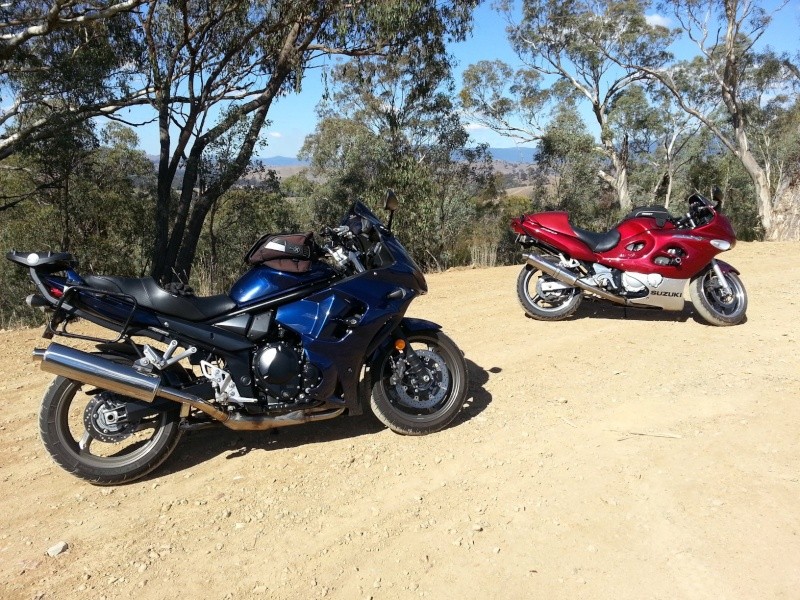 Maybe Mike and the GSXF750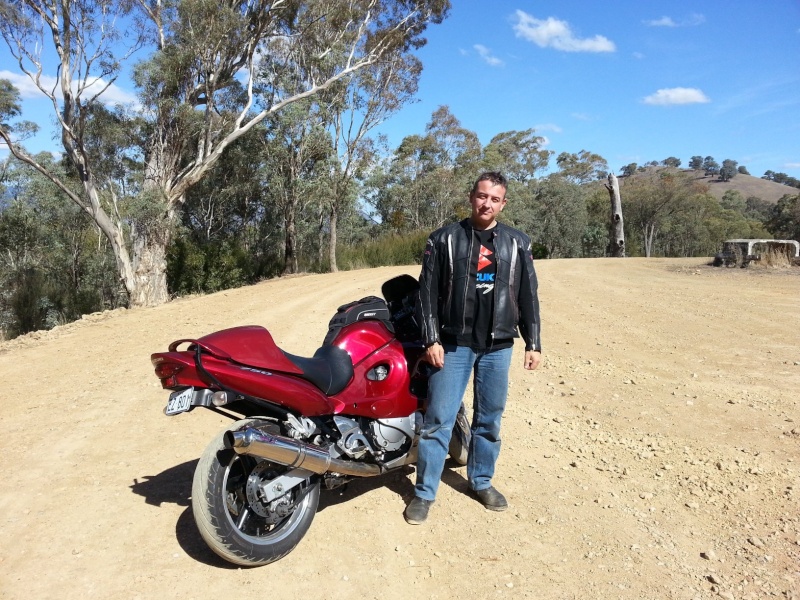 Mad Max and the Bandit 1250FA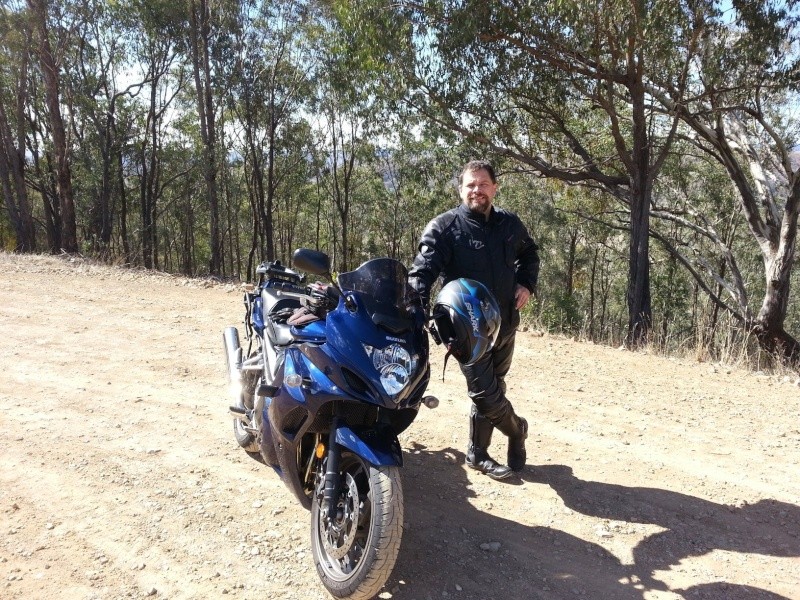 Ready to Head Home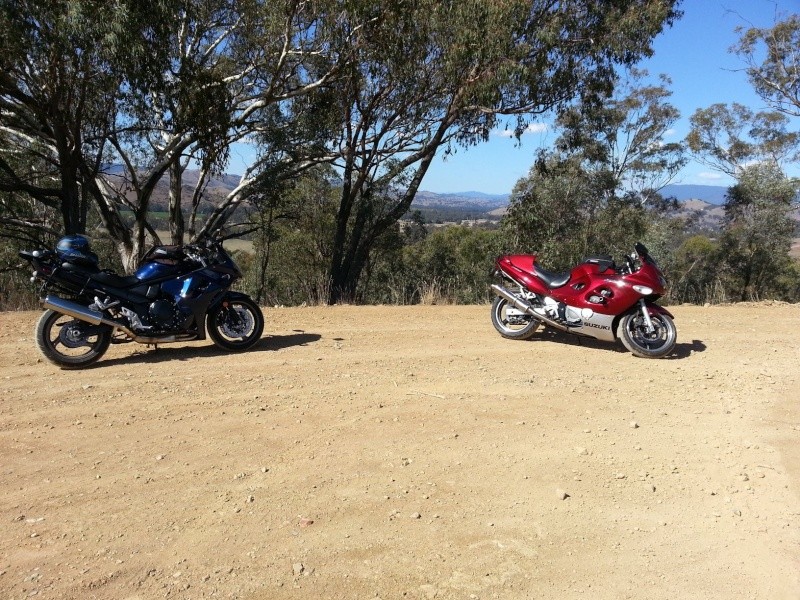 Next time I decide to go and play in the mud I might need to get some off road tyres like this!



Posts

: 6


Join date

: 2013-11-09


Age

: 49


Location

: Skye, Victoria



Nice write up, love the last pic


_________________
2011 GSX1250FA in Candy Indy Blue
2018 BMW R1200RS Exclusive



Posts

: 4130


Join date

: 2011-10-19


Age

: 55


Location

: Carrum Downs, Victoria



Great write up and pics. How lucky were you ?
ps. You'll want more ponies soon.  


_________________
Non Compus Mentis.    "Not of Sound Mind" .



Posts

: 4446


Join date

: 2011-08-09


Age

: 59


Location

: The Rock



Great write up Mike.  Glad you and MM got back shaken but not stirred. 




Posts

: 3871


Join date

: 2010-08-03


Age

: 60


Location

: Bega, NSW



Great report , & anything but a boring trip by the sounds 


_________________
Four wheels move the body. Two wheels move the soul.










Posts

: 7377


Join date

: 2011-08-19


Age

: 66


Location

: Morphett Vale Sth. Aust.



Yea! Great report.

PS nice work on photoshop.
_________________
Cheers Peter
'96 1200s Bandit
2007 DL1000 V Strom



Posts

: 2212


Join date

: 2009-08-20


Age

: 60


Location

: Newcastle



Thanks for the ride-along!  Sounds and looks like a great route,  well, except for the dirty bits.



Posts

: 99


Join date

: 2014-07-23


Age

: 71


Location

: Smith, Nevada USA



Gee thats an adventure. Glad you made it home in 1 piece.
All that drama and no mention of a caravan

I hope you complained to Vicroads about the lack of signage.
Thumbs down to the riders who rode past you in your time of need!
_________________
My posts reflect my personal  experience or opinion. You don't have to agree with me.
~ Chris ~
~ 0466 Ask ~
~ My Photography Blog Page ~
~ My YouTube Channel ~
~ Suzuki Bandits Australia Facebook Page ~
~ Half hr from the hills. Two minutes from the coast ~
~
My Bikes
~
 VFR1200F
 - How Fast Do You Want To Tour?MV Brutale 800 - Triple Treat
Admin




Posts

: 6331


Join date

: 2009-08-26


Age

: 54


Location

: Sale Area Vic



I'm sure there was a caravan involved somewhere


_________________
2011 GSX1250FA in Candy Indy Blue
2018 BMW R1200RS Exclusive



Posts

: 4130


Join date

: 2011-10-19


Age

: 55


Location

: Carrum Downs, Victoria



Quite the wordsmith Mike you should write more ride reports. No need to throw it in a ditch to spice it up though, interesting read without the muddy bits. Thanks



Posts

: 32


Join date

: 2014-06-10


Location

: Coonabarabran NSW




---
Permissions in this forum:
You
cannot
reply to topics in this forum