Page 2 of 2 •

1, 2

First topic message reminder :Thursday, Day 1 Adelaide to Hay
Just before 6:00am Kaylah (Dancing Pillion) and I were waiting in the drive as Michael (Rayman06) came down our street, 10 minutes later after a few goodbyes, we were on our way out of Adelaide via the outskirts of the city centre and the South Eastern Freeway (Princess Hwy).
It was a pretty cool start to the day and got even cooler between the Hahndorf and Mt Barker exits with a bit of light drizzle. As we came over the top of Whites Hill near Murray Bridge the sun was just starting to rise, I wish I had a photo, I've never seen the sun come up on the horizon so it looked like we were riding directly towards a massive moon. 15 minutes after that we pulled into Tailem Bend for a quick stretch and toilet stop, we were all feeling a bit cold but nothing like the 3 blokes on Harley Fergusons with open faced helmets and leather vests.
Next it was onto the Mallee Hwy heading for Pinnaroo and our 1
st
fuel and coffee stop. Lameroo to Pinnaroo gave us our best corners for the day, there's about 20km of nice sweeping bends to have a bit of fun with.  We got into Pinnaroo  about 8:30 and it was still pretty cool, 20 minutes later and we were back on the road and into Victoria where the roads got instantly rougher. Next stop was Ouyen for a quick stretch  and a call to Lyn (SuzySuzuki) to let her know we were about a hour away from Piangil.
At Piangil 2 Bandits became 3, we nearly had the full set, 1 Black, 1 Grey and 1 Blue,
After refueling the bikes and ourselves the 4 of us (3 bikes) headed off for Balranald and then the excitement that is the Hay Plains, what can I say, windy, straight, emus, plenty of road kill and don't forget the 2 or 3 trees in 100km.
We had a toilet/stretch stop half way across the plains and finally we arrived at Hay happy to see some civilization again. A quick refuel ready for the next morning then it was onto the New Crown Hotel to meet up with Brian (madmax), Sam (spanna),  his better half Anna and Barry with his side kick Axle.
We were greeted by Brian, Sam and anna on the footpath as we pulled up. After checking in we put the bikes to bed in the publican's shed for the night and down to the bar to get properly acquainted with everyone before a great feed in the dining room.
Friday, Day 2 Hay to Parkes
Everyone was ready and met up at the Bakery just down the road for Egg & Bacon rolls about 7:00am, great feed, nice coffee and it was on the road, bound for Parkes, 3 Bandits had grown into 1 GSX and 5 ½ Bandits.
As we were heading out of Hay past the 80KMH sign Kaylah tells me "I forgot to do my helmet up", she passed me 1 glove to hold while I tried to keep a constant speed up front, a minute or 2 later she was all done up and gloves back on.
1
st
stretch break was in the middle of "Bum Fuck No-Where" to give all of the invalids with bad backs (me included) a chance to stretch….
…….there was a call of "where is the toilet" from one so after the 30ish KM into Goolgowie it was time for a quick detour off the highway while mother nature was attended to. 1
st
Fuel stop was Rankins Springs, any further and Barry's 1 ½ Bandits would have been stranded, for the rest of us it was a quick top up and we were back on our way.
Barry and Axle were leaving us at West Wyalong to take a detour to Canberra for a wedding, a nice stop in town to say good bye followed by lunch and a walk down the street……..
……. then back in the saddle for the last  140km to the Coachman Hotel Motel and the Suzuki Bandit Forum 2015 national meet.
We finally arrived, checked in, unpacked and within 10 minutes Kaylah locked our keys in the room. I nervously picked up a box of T shirts from reception, did a quick check of numbers, sizes, colours etc., and much to my relief they were all correct and I was pretty happy with the final printed version of the design.
After introducing ourselves to those already there and others as they arrived, s few of us walked over to Kinsela Suzuki and introduced ourselves to Joe Kinsela.  There was a couple of doubters as to the standard of the Coachman and it's meals, those fears were dispelled pretty quickly as we all found the rooms comfy and clean and had very nice, reasonably priced meals (well done KiwiSteve)
Saturday, Day 3, Parkes
Even though I was one of 4 (IIRC) that made it to stumps on the 1
st
night, Saturday morning I was glad I'd stopped drinking about 1 ½ hrs before the 1 am closing and still felt not to bad in the morning. Kaylah and I went next door and posted T shirts to Hervey Bay and Sydney. Soon after it was time for a group ride to Forbes to visit McFeeters Motor Museum. Tag pulled up next to us and just after he stopped went searching for the "smoke" from under his tank, a quick check with plenty of onlookers for assistance and luckily it was a loose hose clamp and still enough coolant. There was one notable absentee still struggling from the night before who hadn't made it on the 1
st
group ride.
The museum looked after us with a group entry price and included a guided tour, there was a lot a real gems mixed with a few "wtf were they thinking", for anyone passing through that hasn't seen it before, it's worth a visit. We finished up with a coffee in the café next door before we road back to the coachman for lunch.
After lunch and the arrival of Barry & Axle we headed across the road for a group shot of everything Suzuki in front of Kinsela's, somehow we ended up with a Invader infiltrating the photo shoot, a few of us did get a shot before Baz rode his overweight Bavarian steed into the lineup (at least we kept the Hondas out though), the mix of bikes was completed with Joe Kinsela's own 2002 1200, that and Kiwi Steve's 2006 (½ breed) 1200 were the only 2 air/oil cooled bikes there.
Soon after we headed out to the dish, a few were held up for a while to blow in the bag, we were hoping to get a group bike shot with the dish behind the bikes but the trees block it from the carpark and there's no entry  to get them closer. A group shot without the bikes was the best we were going to get.
Sunday, Day 4 (morning in Parkes)
I woke about 6:00 am and soon after heard a couple of bikes start, I managed to get out the door in time to see Rayman06 leaving for the 850km ride Pinnaroo, soon after 1 by 1 everyone started leaving. 
SuzySuzuki, Kaylah and I had a relaxing morning as we only had a relatively short ride to Narandara, we were the last to leave and headed off about 9:30. 
To be continued in the ride home…………………………….
" />" />
Last edited by Chook on Thu 12 Mar 2015, 10:57 am; edited 2 times in total



Posts

: 3413


Join date

: 2012-01-20


Age

: 54


Location

: Between the City and Beach, Adelaide



---
Nice writeup and pics!  Thanks!



Posts

: 99


Join date

: 2014-07-23


Age

: 71


Location

: Smith, Nevada USA



@SVDon

wrote:Nice writeup and pics!  Thanks!
Oz is a bit like the US Don.  BIG. But Oz has nothing in the middle.  Just a Rock. To meet up with fellow bikers is a great thing. Friendships are formed that last a lifetime.

_________________
Non Compus Mentis.    "Not of Sound Mind" .



Posts

: 4446


Join date

: 2011-08-09


Age

: 59


Location

: The Rock



Another "view" of the route I took from Parkes to Melbourne: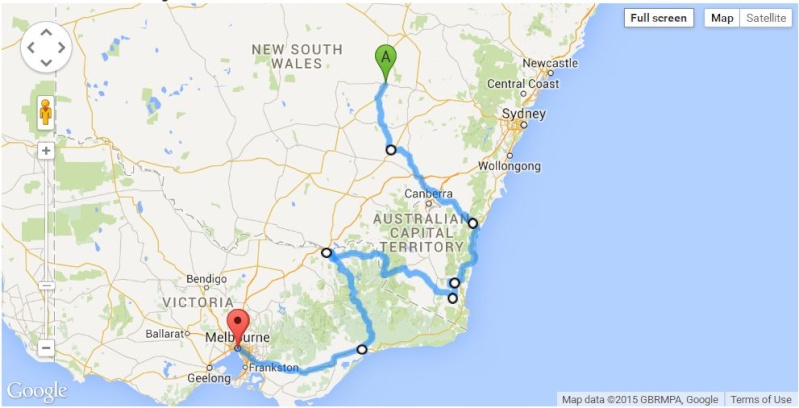 _________________
Hacks - more smiles per mile  

Red 2007 GSF-1250S with SRK Premier Sidecar



Posts

: 1692


Join date

: 2010-04-10


Age

: 62


Location

: Hillwood, Tasmania



Is that your heart rate monitor Barry  ?    The peaks must be the "near fire" and the "brake failure" .  


_________________
Non Compus Mentis.    "Not of Sound Mind" .



Posts

: 4446


Join date

: 2011-08-09


Age

: 59


Location

: The Rock



Some of those turns with my rig and you are pretty close to the truth Hammy, I had both levers, throttle, gear change, turning the handle bars and operating the foot brake all at the same time

.  
Glad it was a week day and off-season, I think I saw only two cars from Thredbo to Khancoban on the Alpine Way.  It was just as quiet from Mt Beauty through Falls Creek to the Omeo Highway. These are two roads you have to put on your bucket list, but not necessarily in a sidecar

_________________
Hacks - more smiles per mile  

Red 2007 GSF-1250S with SRK Premier Sidecar



Posts

: 1692


Join date

: 2010-04-10


Age

: 62


Location

: Hillwood, Tasmania



Page 2 of 2 •

1, 2

---
Permissions in this forum:
You
cannot
reply to topics in this forum