I need to get a toll road account for the motorbike...

the internet seems to be giving me lots of conflicting info re whether I need to carry the tag on the bike or not once I have the account set up, and rego plate linked to it....

I read somewhere that you can ride without it and you'll just be plate matched without the matching fee.

So, can anyone definitively tell me whether I need to carry the tag or not? 

Ta.

_________________
Fast red one.
06 1200.
Loud little Delkevic muffler.
Much antisocial.
Dale Walker Stage 2 bits with K&N air pod things.
Wool seat cover for nomoresorebum.



Posts

: 264


Join date

: 2013-06-17



I didn't carry a tag but have the bike rego linked on my RTA account, the bike always got picked up with no hassles or extra charges.  You can have a number of cars on the account as well and they too don't need the transmitter.  Just found the info below from EASTLINK in Melb, there is a paragraph just below the table of fees (and I'm guessing it is probably the same across all toll operators) that says if you have a rego linked to an account, but do not use the tag, there is a 28c (per trip) processing fee EXCEPT FOR MOTORCYCLES  

Since we moved to Tassie I've kept the NSW RTA "clicker" on the car windscreen even though we don't have any toll roads down here yet (knock on wood), makes it easier if we take our own car over on the ferry to Melbourne.  As all the state toll accounts are linked you don't need to worry about using an interstate clicker.  I've also got an extra clicker for the times when I need to fly interstate and use a hire car, just put this spare unit up on the dash and not worry about having to pay any extra or search the web trying to work out how to pay for a single trip.  Most hire car companies make it very difficult and/or expensive to have the toll added to the hire fee.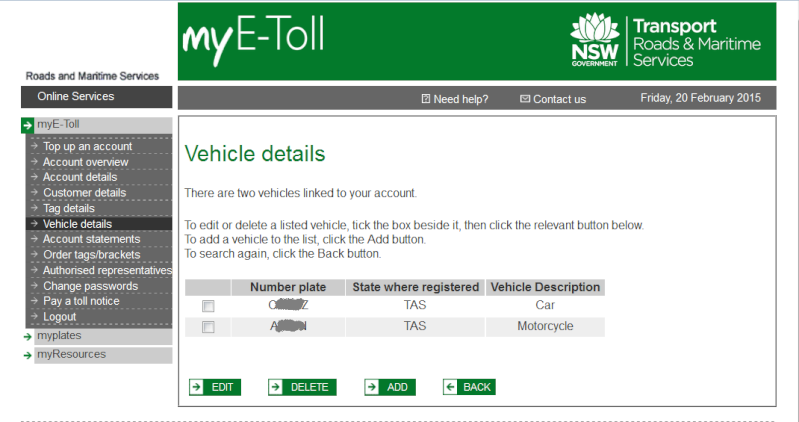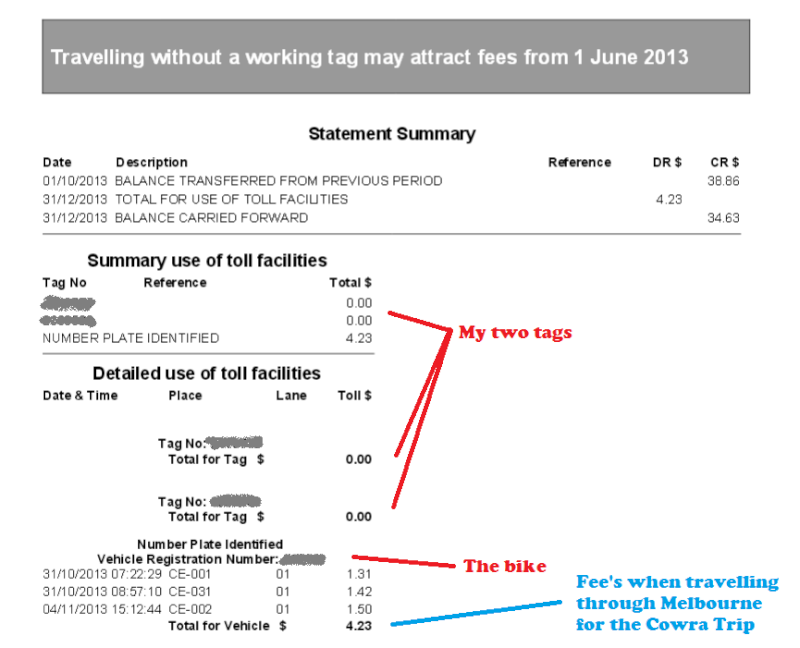 There was a big hoopla about the Vic toll revenue never been calculated on bikes using the toll roads, so it used to be free for bike on most of their toll roads.  However now I believe they are charging everyone, means more profit for the toll road owners and shareholders  

_________________
Hacks - more smiles per mile  


Red 2007 GSF-1250S with SRK Premier Sidecar



Posts

: 1682


Join date

: 2010-04-10


Age

: 61


Location

: Hillwood, Tasmania



Your right Barry, Citylink didn't charge for bikes because they wanted to use tags. With no real secure way of attaching them. When Eastlink opened they started charging by plate recognition. Citylink eventually followed their lead.




_________________
2011 GSX1250FA in Candy Indy Blue
2018 BMW R1200RS Exclusive



Posts

: 4081


Join date

: 2011-10-19


Age

: 54


Location

: Carrum Downs, Victoria



Same here.  My toll account is with Roam and both my bikes are registered on the account with no need to carry a tag.



Posts

: 609


Join date

: 2014-06-01


Location

: Bega



You guys have to pay tolls? 

Harsh.



Posts

: 398


Join date

: 2012-06-02



@NZspokes

wrote:You guys have to pay tolls? 

Harsh.
Not where I live

Although if the SA government would build a North South Express way the 80km through suburbia from Gawler to Noarlunga I'd be happy to pay to use it



Posts

: 3266


Join date

: 2012-01-20


Age

: 53


Location

: Between the City and Beach, Adelaide




---
Permissions in this forum:
You
cannot
reply to topics in this forum