On Wed 11th, I completed the Advanced Level 1 Cornering and Braking course at Sydney Motorsport track on the full course.

What a worthwhile day it was. A long day from 8:30am - 4:30pm but I didn't want to stop at the end.

We went through regular braking technique, body positioning during slow speed manouvres, emergency braking, then after lunch we broke into groups and had instructors critique our own personal riding style and aeas to improve.

We received great feedback and encouragement from all instructors and were happy to answer all questions.

I got a big tick of approval in my style, but it was good just to confirm how I had been riding for the last 17 years was the correct way. A few participants had more to learn than others but we all came away having learned something.

After completing a task, we'd continue around the circuit and practice what we had done. All up I did 160km distance over numerous laps.

The last half hour was a free run to do full laps and practice all our learned techniques.

If you have been half thinking of doing a riding course and was not sure, let me convince you to do it as it has made me look at corners in a different way and renewed my passion for riding!!!

Go and do it! (Any course with any of the different companies!!!)
_________________
Truck bandit

Sounds good.  How much?  And did you have to wear any special gear in particular, eg full leathers?



Posts

: 3821


Join date

: 2010-08-03


Age

: 59


Location

: Bega, NSW



Clothing required were either leathers, boots, gloves.
Or Kevlars and Jacket, boots, gloves.

Cost was $550 , included Lunch, Tea, Coffee, Water bottle(needed throughout the day!!!!)

Probably did around 30 laps throughout the day.

Awesome fun.
_________________
Truck bandit

Yeah nice one.

I keep thinking about doing one of those. Good to hear you thought it was worthwhile....

_________________
Fast red one.
06 1200.
Loud little Delkevic muffler.
Much antisocial.
Dale Walker Stage 2 bits with K&N air pod things.
Wool seat cover for nomoresorebum.



Posts

: 264


Join date

: 2013-06-17



its a big chunk of cash, but I wouldn't mind doing it either



Posts

: 158


Join date

: 2014-05-08



A course costs about the same as a new muffler which most riders don't blink at.

A course makes your bike and every other bike you'll ever get on a damn sight faster and safer than a muffler ever will.

I've never met a rider who's done a course (or many) and didn't think it was the greatest thing since sliced bread.



Posts

: 609


Join date

: 2014-06-01


Location

: Bega



After my recent trip to the WSBK at the Island, a familiar ride looked so different and the corners seemed all the more fun.

It does seem like a lot but when you equate it to a set of tyres, or a nice night out at a restaurant or a day at the footy, for a full 8 hours of enjoyment, excitement, learning and fanging your bike around - you just couldn't beat it.

Think of it as an investment in your safety and future!
_________________
Truck bandit

ive never met anyone from the forum that im aware of,so its only my saying so that I think im pretty clued up after nearly 30yrs riding about all things motorcycle.after reading your post truck as soon as I can get some cash together and some time away from pumping concrete im doing it.do ya reckon theyd have a similar thing in Brisbane.perhaps at willowbank?
_________________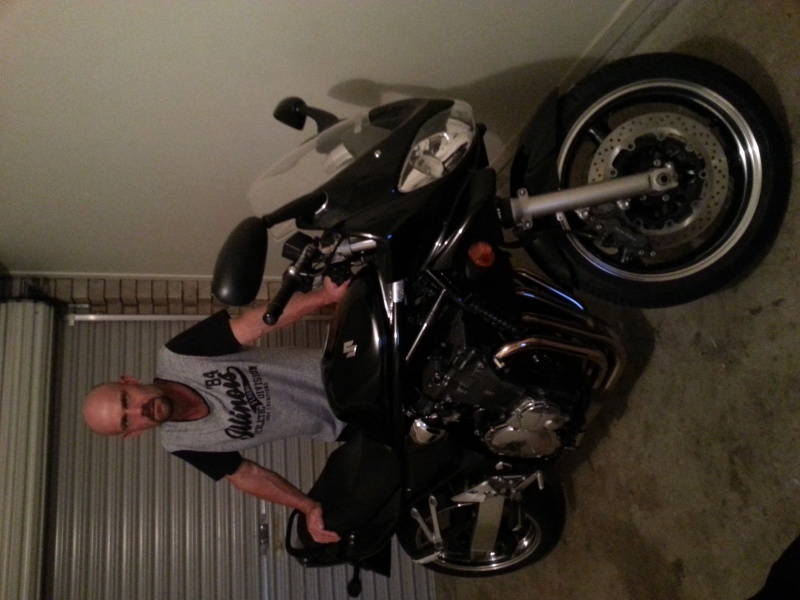 Posts

: 33


Join date

: 2015-01-01



If not Willowbank, check out Mt Cotton.
I'm pretty sure something along those lines happen up in your area
_________________
2006 1200s
Fast red one

Delkevic can
Cruise n Comfort seat cover



Posts

: 1419


Join date

: 2012-01-25


Age

: 54


Location

: Coffs Coast



thanks for the info kiwisteve.this winter im going to rebuild my bandit.every nut and bolt.im certain it will produce very good power naturally aspirated.as ive stated before on this forum,i know a little bit about Suzuki bandits.but no one likes a smartass,so when ive finished the job I could do with someone who really knows what theyre doing to show me how to ride a bike with 180 h.p properly.im just getting warmed up with this forum thingo,so thankyou so much for an informative reply,you sound like a decent bloke.



Posts

: 33


Join date

: 2015-01-01




---
Permissions in this forum:
You
cannot
reply to topics in this forum