Hi All, after my first reasonable ride (Sydney to Canberra return) I had to do something about the seat. An hour out of Sydney and my arse was killing me!
Went to the local small sheepskin place on Canterbury road and got them to cut a large sheep skin in half, then went to Clark rubber hoping for some memory foam but could only get 12mm standard foam.
Bit of a craft afternoon and here are the results. Haven't gone for a ride yet but I'll let you know. Total cost $47.50.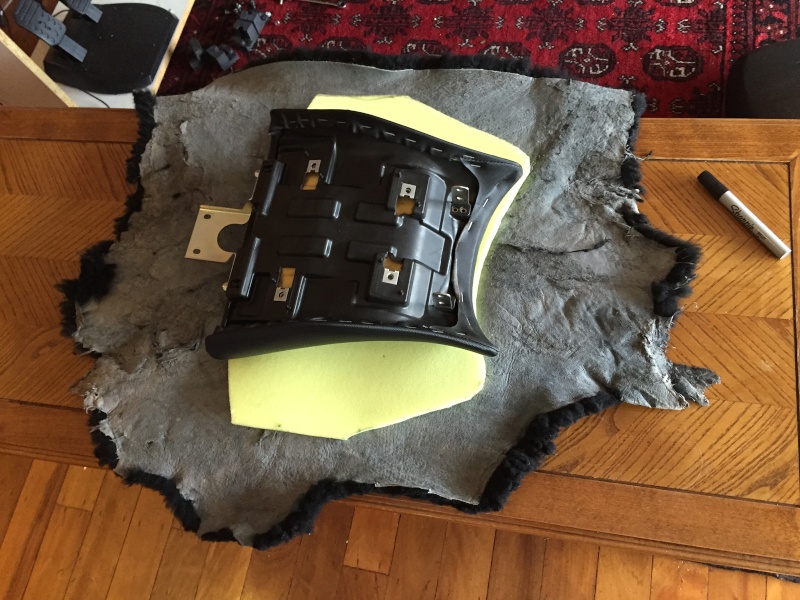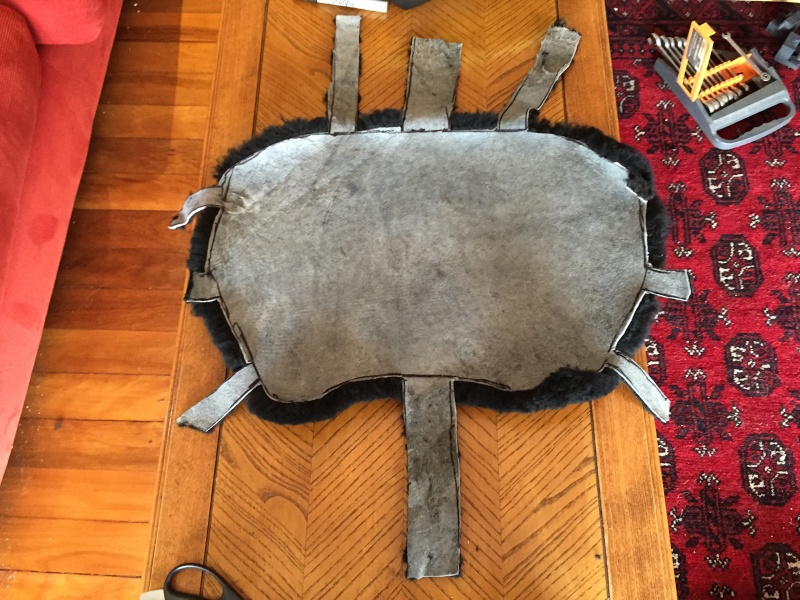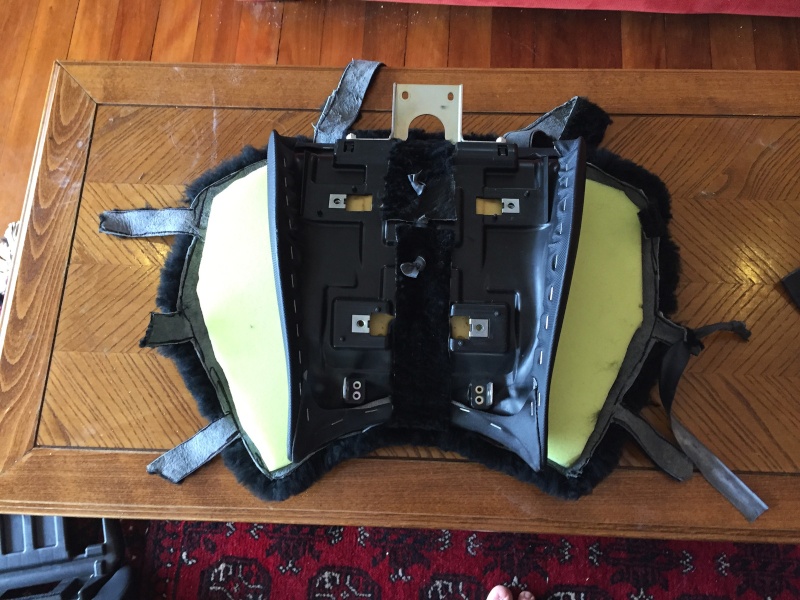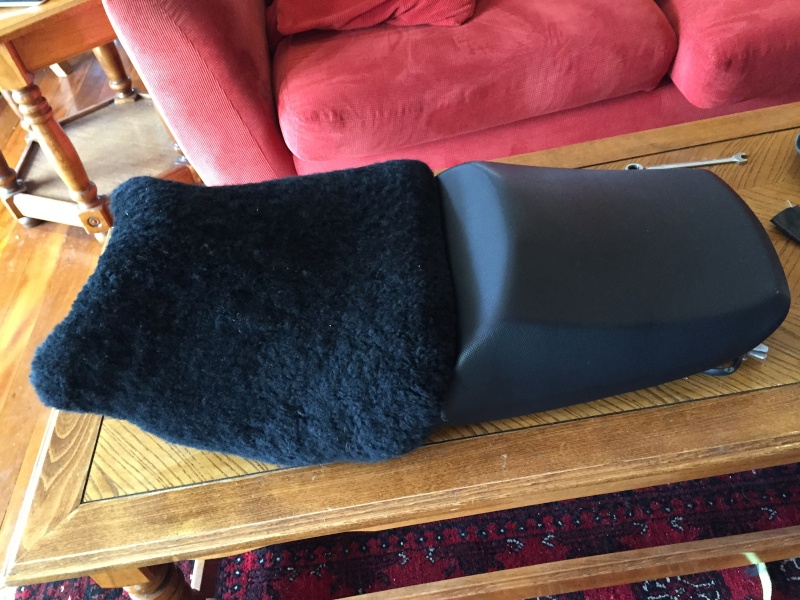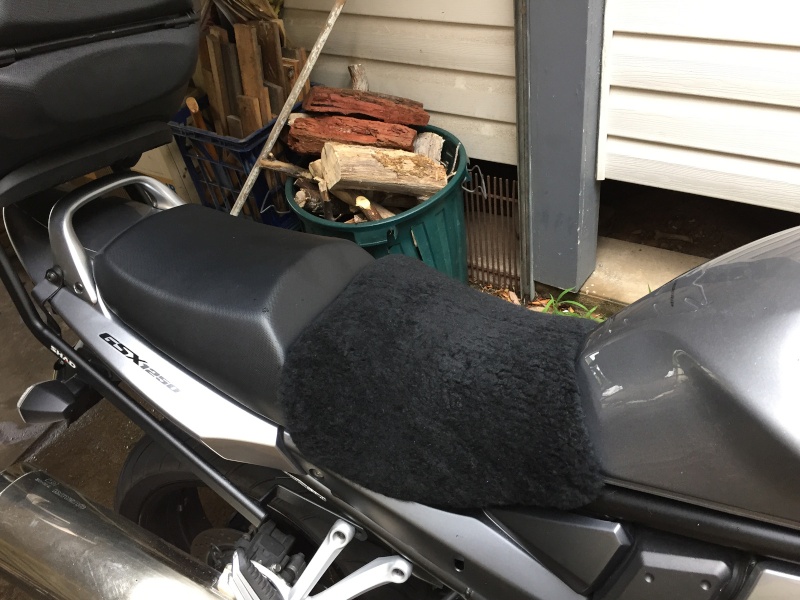 Looks good, but I think it would look even better if you did the whole seat.

_________________
2011 GSX1250FA in Candy Indy Blue



Posts

: 4057


Join date

: 2011-10-19


Age

: 54


Location

: Carrum Downs, Victoria



_________________
My posts reflect my personal  experience or opinion. You don't have to agree with me.
~ Chris ~
~ 0466 Ask ~
~ My Photography Blog Page ~
~ My YouTube Channel ~
~ Suzuki Bandits Australia Facebook Page ~
~ Half hr from the hills. Two minutes from the coast ~
~
My Bikes
~
 VFR1200F
 - How Fast Do You Want To Tour?MV Brutale 800 - Triple Treat
Admin




Posts

: 6296


Join date

: 2009-08-26


Age

: 53


Location

: Sale Area Vic



Great result.  It will be interesting to see what your bum thinks!




Posts

: 3816


Join date

: 2010-08-03


Age

: 59


Location

: Bemboka, NSW



I've often be accused of talking out my bum so it'll let you know!
Not via butt burp I hope

_________________
2006 1200s
Fast red one

Delkevic can
Cruise n Comfort seat cover



Posts

: 1419


Join date

: 2012-01-25


Age

: 54


Location

: Coffs Coast



What an awesome result. 
You will definitely benefit from the sheepskin, especially with the added foam. 
I've run sheepskin on most of my bikes for years. Wool has some amazing abilities. It breaths and keeps your arse cool as well as the padding. 
The only recommendation I can make is to carry a plastic bag under your seat, to cover your seat when you leave your bike outside overnight to protect from dew and rain. A soggy sheepskin is a real drag.

_________________
Some people are like slinkys. Not good for anything but they make you smile when you push them down the stairs.



Posts

: 1357


Join date

: 2013-12-04


Age

: 48


Location

: Newcastle






Posts

: 99


Join date

: 2014-07-23


Age

: 70


Location

: Smith, Nevada USA



Much difference? My bandit came with a sheepskin(no foam) and it is no more comfortable than the seat uncovered, it would be interesting to read ho your padded sheepskin works out. Let us know what the results are I may have a go at mine.



Posts

: 32


Join date

: 2014-06-10


Location

: Coonabarabran NSW



Still waiting to get out on a decent ride. Been busy moving house.

Phil.

---
Permissions in this forum:
You
cannot
reply to topics in this forum