Hi all,       This is my attempt to show just how easy it is to BLING,BLING, ya bike.This was my long weekend project,took about 15hrs to complete ,started Saturday at 12,finished Sunday at 5pm.
" />
Thought
i would do the final drive housing to match the rim and front rotors as well,priced a front set for Grendell at $445 each polished,
not fuckin likely.
Here's what we need, 1 tin paint stripper,so we can do this.No turning back now....... lol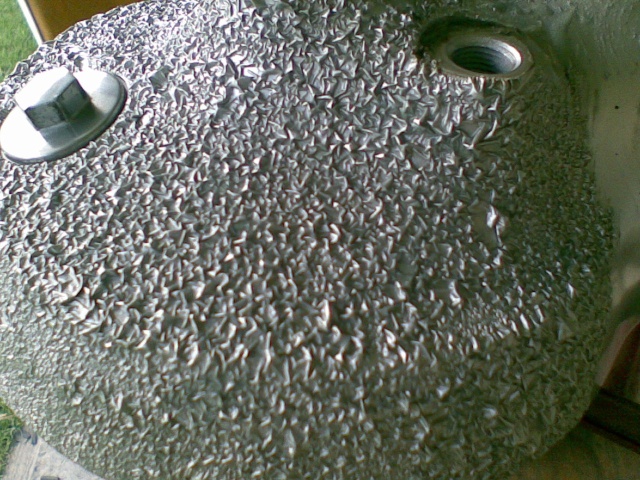 Then hose it off,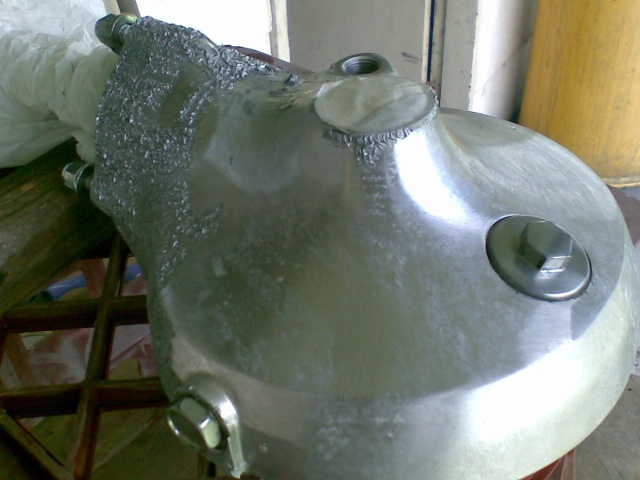 Then we need 1 of these with a worn 340 grit paper an dust mask,
Now sand the entire thing till all the scratches that are on are gone,hit it with a 320 grit wet'n'dry an it should look like this'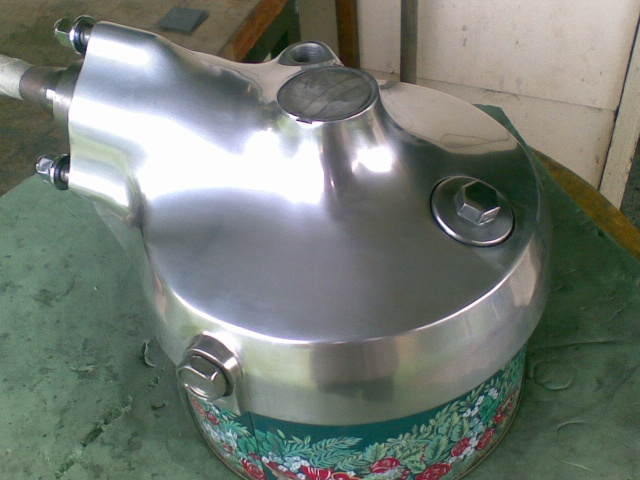 Next step,we buff it with a stitched 4'' wheel with maxicut cutting compound (brown)and it should look like this,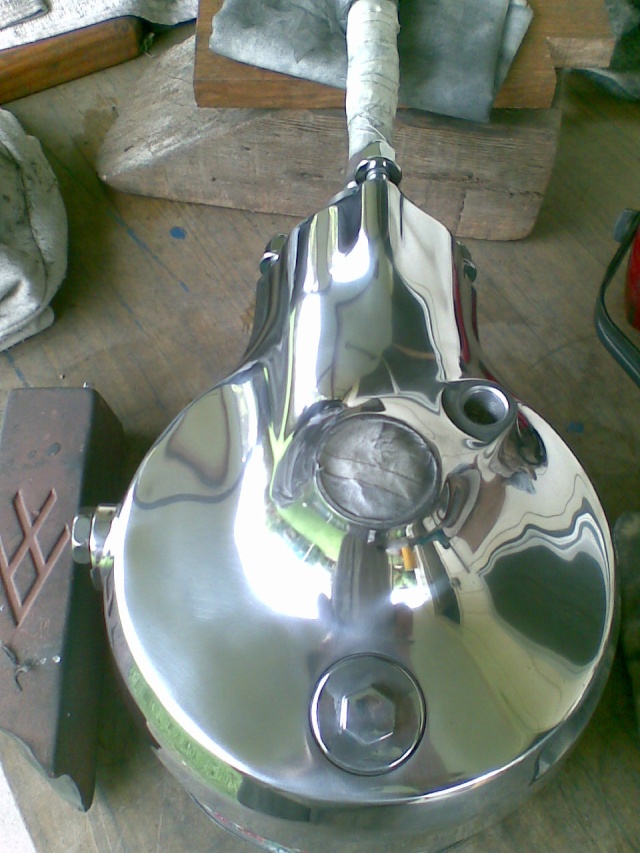 Now wet'n' dry with 1200Then we use a blue alloy polishing compound and it will look like this,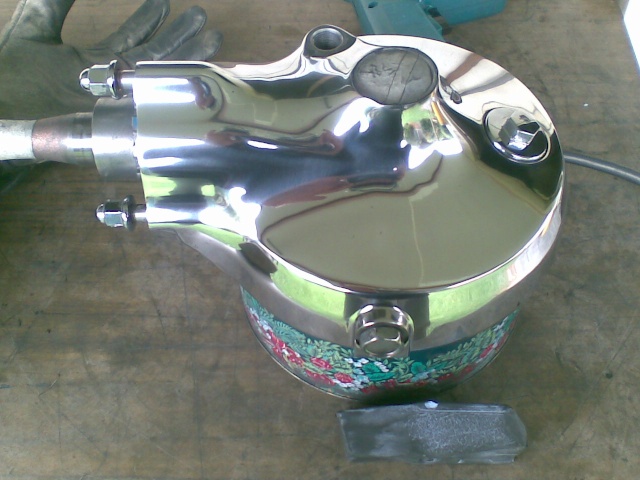 Now we use 1500 w'n'd then 2000w'n'd,finally a green alloy finishing compound on a soft unstitched wheel, and it will look like this,
Here are the other high tech tools ,
And these are the high tech tools i used,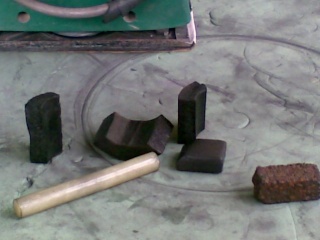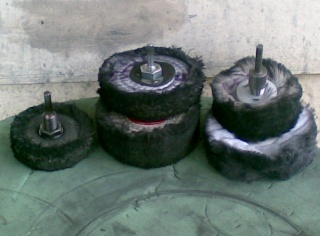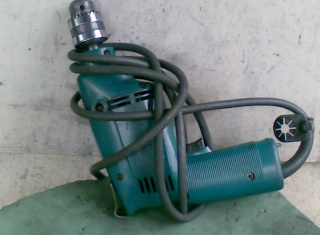 And this is how it all looks back together,rotors as well.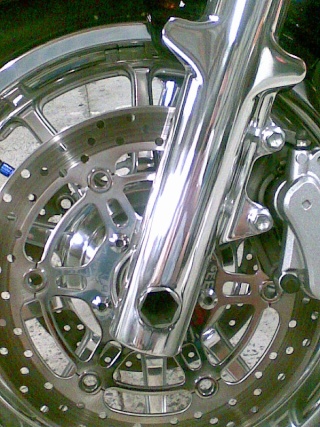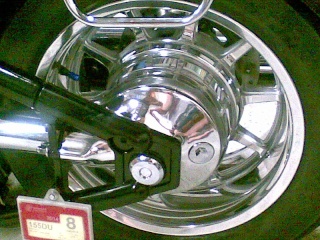 Some how i thinks there is room for improvement,any ways for those crazzyyyyyyy enough to have a go....... enjoy

  Damn that looks brilliant! (pun intended)
I just don't have the time or the patience.
Well done

_________________
2011 GSX1250FA in Candy Indy Blue
2018 BMW R1200RS Exclusive



Posts

: 4081


Join date

: 2011-10-19


Age

: 54


Location

: Carrum Downs, Victoria



Is there a reason not to hit it with a courser paper like 220 grit and then 340 ?
220 grit leaves marks a little to deep to remove with the cutting compound,that's why i use the worn 340 grit dry then the 320 w/d, its depth works well with the compound i use Gus.
The centre of the bandit wheels are quite rough .Surly 320 git would take weeks .
He is not polishing a mottled surface Gus. I did some car rims that were rough cast (worse than the Bandit wheels) Took about a month to do 4 rims sanding by hand. If I only had a dremmel back then! Could have robbed a bank and left no fingerprints  




Posts

: 353


Join date

: 2012-11-29


Age

: 45


Location

: Strathalbyn South Aust.



R,now your talkin wheels,different story,for starters U need two 120 grit flap wheels or a contour flap wheel and steady hands because that's what U use on all of the orange peel,it's also what i use to re sculpt parts of the wheel where the spokes join the hub, then we can use what ever grit w/d U want. Final prep should B 2000 w/d that's how i get the mirror effect along with the finish rouge............ hope that helps a bit Gus.

P.S. Gus my how 2 was just simple things, the wheels,not so simple.
Got it , actually you've got it ,the masters touch . Great job .
Gus, thanks for the complement,and I'm sure from what I've seen of your workmanship you could do a set those wheels.



Posts

: 4446


Join date

: 2011-08-09


Age

: 59


Location

: The Rock






Posts

: 1051


Join date

: 2011-06-22


Age

: 56




---
Permissions in this forum:
You
cannot
reply to topics in this forum