19:30 15 Jan 2014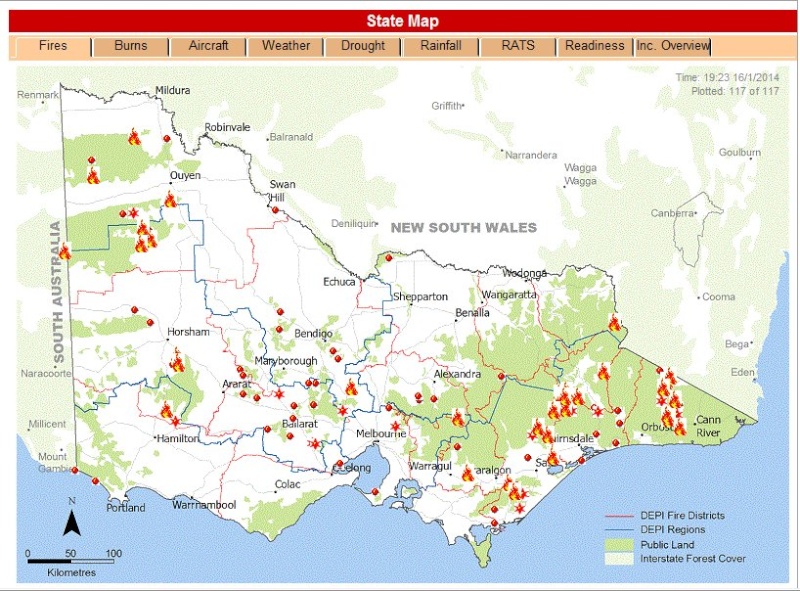 This is our state wide map of fires burning as of a few minutes ago.
I'm working as logistics officer at our incident control centre at Heyfield.
Its one of my fire roles and I generally enjoy it but days like this when our district has several new fires start or found its pretty stressfull.
I'll be here at least until Sunday and by then all my hair will be grey


Thankfully on my days off I'll be able to go for a ride and de-stress.
While you're complaining about the heat please spare a thought for the people actually fighting the fires especially the ones in green overalls who dont get the acknowledgement they deserve or the respect the yellow overalls seems to attract

Last edited by 2wheelsagain on Thu 16 Jan 2014, 8:46 pm; edited 1 time in total
Admin




Posts

: 6266


Join date

: 2009-08-26


Age

: 53


Location

: Sale Area Vic



Yep , it's a worrying time of the year, with more to come .................we haven't had a major one in the Adelaide hills for quite a while so every summer it's fingers crossed natural causes , or some dickhead doesn't cause one .  We have a few fires going on around SA , & total respect for all concerned who combat them either here or any where else .................bloody tough job .



Posts

: 7053


Join date

: 2011-08-19


Age

: 65


Location

: Morphett Vale Sth. Aust.



East Gippsland looks to have its share of hot spots Chris - we've had a lot of spring and summer rains just past there so I'd be assuming sufficient fuel for it to become a big burn.  A lot of it is isolated I suppose to not threaten many properties.



Posts

: 3779


Join date

: 2010-08-03


Age

: 59


Location

: Bemboka, NSW



I agree with the sentiments of 2wheelsagain.  Re: DEPI firefighters.
 
I've got two very good friends in green who are doing the seasonal firefighting thing for the second and third year, respectively.  I've HUGE respect for them.  They are young, awesomely fit people. It's a privilege to work alongside these people during the Winter when we are doing very different, other things.

_________________
The trick is to grow old. "Growing up" is less important than surviving.



Posts

: 197


Join date

: 2013-04-01


Age

: 66


Location

: Tocumwal, NSW



Well our 80 or so people here in our little part of Gippsland managed to hold onto most of our fires.
Crews spent most of the day protecting "assets" and did a great job.
We havent lost anyone or anyones house. A shed with 6 cars indide was lost but the house a few metres away was saved.
The west of the stats has copped a hammering and the wind change that was expected has now been pushed back so tomorrow could be as bad as today was predicted to be.
I'm pulling an all-nighter and it will probably turn into a 26 or 27hr shift and back again tomorrow night.
Here's a current map.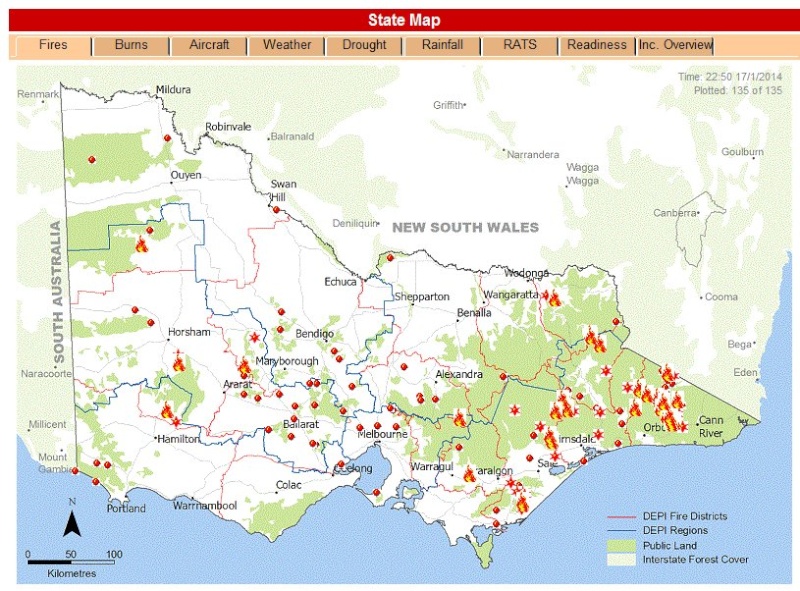 Admin




Posts

: 6266


Join date

: 2009-08-26


Age

: 53


Location

: Sale Area Vic



We in the Blue Mountains know what Victoria,SA and WA are going through.We all pray for the safety of everyone and their properties
Hope all the fires are put out quickly so everyone can go home to their loved ones.
Maybe the Greens will let us backburn this year and not leave it for another 20 years.
My wife and I have been involved with the bushfire relief and furniture donations up here.
we have seen the destruction.we have dealt with people in pain losing everything and it`s not a pretty site.
Please do what the cops,firemen tell you.If they say get out for God`s sake FUCK OFF.
You can rebuild a house but not a life.
Good luck and Please Stay Safe

_________________
life is good.



Posts

: 154


Join date

: 2011-01-21


Age

: 57


Location

: hazelbrook



Onya 2W.  And everyone else concerned.



Posts

: 4446


Join date

: 2011-08-09


Age

: 58


Location

: The Rock



Good on you Chris, ALL the Fireys are unbelievable, I mean everyone concerned, they/you do an amazing job. Keep up the good work and I hope you get a break in the weather sooner than later. Stay safe mate.



Posts

: 803


Join date

: 2011-05-14


Age

: 48


Location

: Wagga Wagga



---
Permissions in this forum:
You
cannot
reply to topics in this forum