.... I've got a busy year planned, and been thinking that a couple of weeks on the road might be a good way to start it all off, make me fresh etc  

Thinking that a trip from my hometown of Canberra to sunny Darwin and back on the Bandit might be in order....
Anyone done this, or parts of it?
Which is the best way to go? Thinking might be nice to maximise use of the no speed limits in parts of NT...
Where do the police hide

Camping spots etc?
Anything I need to think about for the bike for an 8000km trip?
Cheers



Posts

: 264


Join date

: 2013-06-17



Where to start....
Are you thinking early in the new year? If so the top end is very green but very very wet so camping in hot humid monsoonal conditions would be interesting. Keep in mind we get up to 2000mm of rainfall in a 6 month period and it seems to be increasing.  The no limit section of the Stuart highway will only take you an hour to cover cos it's just 200kms only and located  down between Elliot and Alice. Was an election commitment by the wankers in power here. They've taken the limit off a tiny  piece of the Stuart highway while imposing reduced limits everywhere else. Generally tho the 130 limit applies on the Stuart highway. 

When you get to Pine Creek turn right (East) onto the Kakadu highway (a good bike road by NT standards) and ride out toward Jabiru. From there take in the sights of Kakadu before heading back West to Darwin on the fairly dull and straight Arnhem highway. Wouldn't recommend Kakadu or Arnhem highways in Feb tho cos the roads will generally be cut if Monsoon is active. Far better to look at doing such a trip around May. Dry is just beginning nights cooling off and the bush will still be green. Trouble is all the caravans start arriving.  Keep in mind , around 70% of roads in NT are unpaved so touring capabilities on a road bike are limited unless your comfortable on dirt. Watch out for wild horses, pigs, buffalo and the inevitable wallabies. It's a fantastic place at all times of the year but do your homework on what's likely to be open and DON'T swim in any water north of Katherine unless it's a swimming pool or sign posted as safe for swimming. The mud geckos have taken over.

The wet season (now) is good cos there's no one here due to the heat and humidity. The Dry season is perfect, but the rest of Australia seems to gravitate here escaping your winter, so it all gets a bit less laid back. Keep me posted tho if you do it and we'll catch up with some other riding mates for a ride out to Litchfield NP. Happy to show you some NT hospitality and some good (croc safe) swimming places.

_________________
DL1000A (V2), GSX1250FA, F650/800GS, DR350.
depends how much time you got.
quickest would be to go to S.A, and then straight up the guts of Australia on the Stuart HW. Stuart is a good road, a bit boring in a lot of areas, but hey, you`ll see heaps of stuff.
there`s something about  the guts of AUS that makes me want to go back. Never done it by bike, only car, but want to do a bike trip. I have done 8000-10 000K trips before though.
just make sure you`ve done all your normal checks on your bike. Get a repair kit and the likes of, and some spare fuel wouldn`t go astray. Go into a good camping store, and get yourself some one litre bottles, DON`T go to supercheap or any of them, the camping stores have got good fuel bottles with pressure relief valves on them.
Obviously make sure you start the trip with new tyres.
Hate to let you down, but its not open speed limit anymore, has been limited to 130km for some time now.
its only limited until you get caught 




Posts

: 1686


Join date

: 2010-02-20


Location

: Gladstone



A couple of weeks may not be quite long enough if you like looking around as well as riding.

My choice of roads would be Canberra to Port Augusta then onto the Stuart Hwy. For the return journey turn left at Three Ways then back through Qld.

NTBill is absolutely spot on about the weather. If you are travelling before May you will experience some pretty hot/steamy weather. Best to eliminate all synthetic clothing and stick to cotton or wool.

If you are susceptible to tinea or other skin issues make sure you have medication available, also sunscreen and insect repellent.

I wouldn't suggest travelling after hours due to the wildlife on the highway, not just kangaroos but pigs, emus and dingoes. Of a day time there are also bloody big wedge tailed eagles.

For accommodation I found the most interesting and economical was at the small towns and fuel stops. They just about all have donga accommodation available and are reasonably priced. Some examples would be Stuarts Well just south of Alice Springs, a UFO park north of Alice Springs and Daly Waters pub. You probably will have no problem getting accommodation during the monsoon season.

DO CARRY 5 LITRES OF EXTRA FUEL and adhere to the old saying "Never ride past an open servo". I got caught out just north of Daly Waters where there were highway billboards advertising fuel ahead but when I got there it wasn't the case. I was saved by a travelling companion who had some spare fuel on board.

I hope I haven't put you off at all. It is an excellent trip which I will do again someday.

_________________
BanditDave
Hervey Bay, Queensland
2015 Suzuki DL650A
2014 Honda CBR650F
2009 Bandit 1250
2006 Bandit 1200
Suzuki VZ800 Marauder



Posts

: 730


Join date

: 2011-07-24


Age

: 67


Location

: Hervey Bay, Queensland



thanks for the helpful tips (and hospitality

 ) ... yours and NT friends make me think I'll do it in caravan season..... be fun playing with the vans on the bandit....
reckon I'll have to go to tassie this time (DAMN, oh woe etc)



Posts

: 264


Join date

: 2013-06-17



Being from Darwin, I can truly say that Tassie has a lot more bike roads than up here  

We have the run to Litchfield, a road to Mandorah and a road to Kakadu.
Apart from those, there aint much in the way of twisties this way.
Tassie is Brilliant! I flew down last year for a bike trip!
Cheers
Steve



Posts

: 54


Join date

: 2012-11-17


Age

: 55


Location

: Darwin NT



Emerald springs for a brekky run via Dorat Road is also a good run at this time of year Steve (no tourists cluttering the roads). 380km round trip with about 120 (there and back) on that lovely old section of winding twisty narrow woopy Stuart highway always tests the senses and skill.
Have done it a few times now and it's way more fun that Litchfield I reckon. Great way to get those tyre profiles rounded again.
Here's a pic from a run last Sunday just prior to leaving Noonamah at 7.30
Six of us on 4 bikes, my middle child riding pillion on the GSX....all 44 kg of her.
[/url]

_________________
DL1000A (V2), GSX1250FA, F650/800GS, DR350.
OK, Looks interesting. I have driven that way once years ago before I had the bike, and recall the road seemed pretty undulating, rough and windy. Will give it a go and see what its like now. Cheers, Steve



Posts

: 54


Join date

: 2012-11-17


Age

: 55


Location

: Darwin NT



It's still rough and winding but the seal is good  (not potholed).
However there is a knack to that road that it's worth knowing (and was given to me by a mate who knows it well).
Because it's a very narrow seal with no marked edge or centre lines, has some nasty drop offs to the shoulder (6" or so), the trick in staying alive or in one piece is to not leave the seal or venture to the wrong side of the road.
Need be ready to contend with landcursers towing their 6m boats back from the Daly River coming fast around corners or over crests in the middle or wrong side of the road. In the southern most 30 kms there can also be livestock road trains using it  

So...the trick is to ALWAYS ride in that leftmost 1.5 metres of seal.
Easier said than done, specially on right hand sweepers but it's really a lot of fun once it all clicks in amd saves having to dive left and then try and save it all before leaving that shoulder.....and there's some good scenery along the way by NT standards (escarpment country). Robin Falls is worth pulling into for a swim (about 15kms in from Adelaide River) on the way back.
A few riders do get the rubber side up on that road and there's been a few fatalities over the years so don't be shy in taking it easy while getting the lay of the land.... and watch some of the causeway dips. You will get airborne.  I know of riders who trailer their bikes there just to do that section, and they overtake me like I'm standing still, yet we average 100 to 130km/h along it. Do it early on a Sunday and you'll have the road to yourself along with pigs wallabies, dingos and the odd buffalo...
The most challenging bike road up here I'd suggest and better suited to something with decent suspension. Last Sunday my daughter and I had no trouble keeping on the tail of the Daytona cos he had his rear suspension too hard and kept skipping. The lump that the Bandit is, two up, just loved it and the PR3s locked us in like glue.

_________________
DL1000A (V2), GSX1250FA, F650/800GS, DR350.
I haven't done it myself, but the local bike group did Darwin a couple of years ago. The only hint I really took in, was to watch for road kill, as the big eagles are slow at taking off and are more likely to hit you as you try to go around them.
Good luck, whenever you decide to do the ride.
_________________
08 Bandit 1250S
Radguard
seat cowl
Carbon Fibre tank pad and fuel cap surround
Puig Race Screen
Ventura rack system
Shorter Exhaust on the WishList
[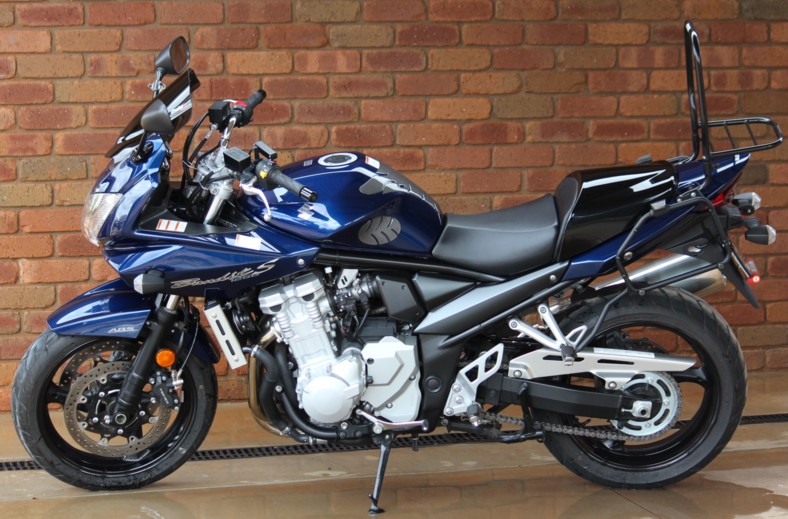 img]http://nswbandits.forumotion.net/[/img]



Posts

: 550


Join date

: 2012-05-30




---
Permissions in this forum:
You
cannot
reply to topics in this forum