Well, 1366ks later and we ( Jan and I ) did it. Rode to Rockhampton on Good Friday. Returned on Sunday. First let me tell you about my big Stuff Up. As some of you know we live on Macleay Island. Took our bikes over on thursday by barg so we could catch the first water taxi in the morning and get a nice early start. Friday morning, all set. On 5.43 am water taxi half way across to mainland. Glanced down at Jans small tank bag and saw her bike key.

Where is my key ? You know that feeling when all the blood rushes from your head and a million thoughts are trying to get into it ? Checked all pockets and zips, but as I suspected, I had left the key in my jeans pocket from the day before. DUMB, DUMB, DUMB. Jans look said it all. I had to go back on the same water taxi, get the cab to go home, retrieve the key, cab back and wait an agonising 40 minutes for another water taxi. All up , an hour and a half lost. Finally on the road and pleasantly surprised at the amount of traffic. More like a normal Sunday. No delays anywhere. Stopped every hour for a break or refuel. Lots of bikes out. Meet and spoke to a few on the way. Good vibes everywhere. ( except when a KEY got mentioned )

Rolled into Rocky at 5pm. A long day but a good one. Jan says the Air Hawk is the best thing she has bought in a long time. The Vista throttle locks worked a treat. Great investment. My only regret is that we took the Bruce Hwy there and back. Jan is not too adventurous, and did not want to risk the inland roads. Fridays weather was super all the way. Saturday was spent walking , swimming and just generally lazing around. I really like Rocky. Big wide streets and lots of lovely old historic buildings. Motel accomodation was excellent. Handy to almost everything, clean and reasonably priced. Up early on Sunday for a 6am start. Clear skies at first but then rode into some heavy rain that luckily only lasted for around 20ks. Lots of traffic heading in both directions. No issues again going our way. Not many police about either. Most times we got flashed by oncoming cars. (good fellas). Just missed the 3.40pm barge so had to wait for the 5pm one. A pretty rushed trip but well worth the effort. Both bikes never missed a beat. Mine ran smooth as silk. But she just wanted to be unleashed and get into some twisty stuff. Passing was of course effortless. Then I would have to wait for Jan to catch up. The 650 V Star is not the best accelerating bike.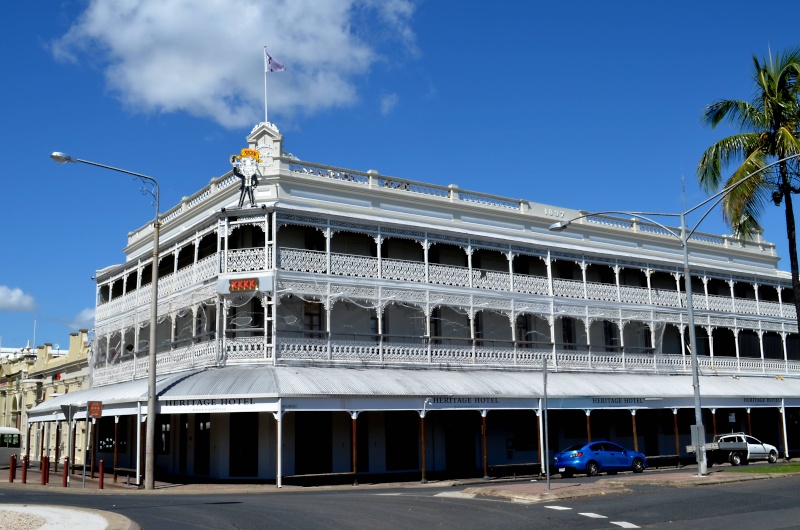 Heritage Hotel. Dined there saturday night. Nice food. Friendly staff.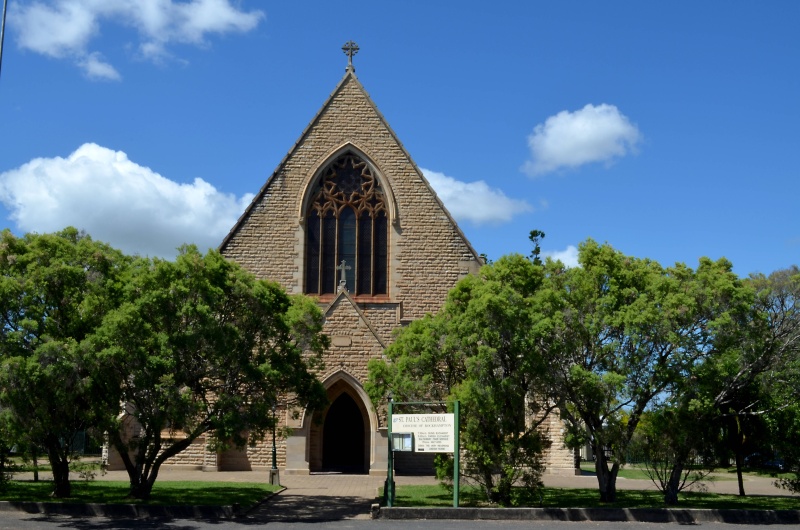 "Pauls" Church.
There are Bulls everywhere in Rocky. Most of them are on top of buildings.
After 1366ks the bikes are a bit grubby and looking for a bath.
Goodbye to the Mainland.( for now ). Time for a hot shower and a comfy bed.
Looks like a great trip Hammy ( even with the key episode


) I don`t know if I would be game to go into even my own church , just in case there was a big clap of thunder & the roof caved in on me

.
As Jan gets more experience she might take some back roads, but you may need to allow more time to get there that way .
It`s great how when your on a bike trip anywhere people always seem to want to have a talk isn`t it


_________________
Four wheels move the body. Two wheels move the soul.










Posts

: 7363


Join date

: 2011-08-19


Age

: 66


Location

: Morphett Vale Sth. Aust.



Too true Paul. The roof probably would have come down.

We pulled in at one big roadhouse for a bite along with members of the "Darkside Riders" M/C club. Their moto is: " Where we do give a Rats arse". Had a nice chat to a few of them. Looked over some of their bikes, a couple of trikes. Was admiring the paintwork on one of their bikes when the owner came over. Told him that I liked the flames very much. He told me that it won a prize for best paint in a show. He said that he did'nt have the nerve to tell them that it was ALL factory paint work, even the flames. One of the trikes had blown a rear shock. No worries he recond.
The darkside riders are a Brisbane area club which splintered away from the ulyssses club aren`t they ? ( obviously didn`t give a rats arse about his rear shock though

)

_________________
Four wheels move the body. Two wheels move the soul.










Posts

: 7363


Join date

: 2011-08-19


Age

: 66


Location

: Morphett Vale Sth. Aust.



Not sure about their history but they all seemed like nice people. Guy n Gal riders.
Sounds like a nice trip.
The
KEY
to a good relationship is to do things together

You'll have to work out a way to get Jan to ride some twisties. I suggest you do some short trips with plenty of stops and encouragement and allow her to follow you but you ride at her pace. I have been in that situation and it pays off eventually.
_________________
My posts reflect my personal  experience or opinion. You don't have to agree with me.
~ Chris ~
~ 0466 Ask ~
~ My Photography Blog Page ~
~ My YouTube Channel ~
~ Suzuki Bandits Australia Facebook Page ~
~ Half hr from the hills. Two minutes from the coast ~
~
My Bikes
~
 VFR1200F
 - How Fast Do You Want To Tour?MV Brutale 800 - Triple Treat
Admin




Posts

: 6329


Join date

: 2009-08-26


Age

: 54


Location

: Sale Area Vic



I'm 100% sure it is the bike that is holding Jan back. Nice bike for its purpose, but hey, thats limited. She has felt it bottom out a couple of times when cornering and I think that scares a woman a bit. She went from a 250 Virago to the V Star. Thats it. Did a small stint on a ninja at ride school so she lacks confidence in knowing what you can do on another bike. Still think an SV 650 might be the go. Anyway. This is my mission now.

Great trip. A lot more enjoyable with someone.



Posts

: 68


Join date

: 2010-08-19


Age

: 55


Location

: SE Queensland



it is a good ride, did Sunny Coast to Mackay about 6 mths ago, loved it, other than the numb arse after 400 ks ! On the way back stopped in Rocky to by one of those 'air hawks', got the guy down to $130 only to find out i didn't have sufficient funds!!! WTF. Are they still doing road works up there?? Am looking at doing it again at the end of July.



Posts

: 26


Join date

: 2012-06-04



im riding to bowen at the start of july so ill let you no

_________________
Holdenman

2007 Bandit 1250S



Posts

: 511


Join date

: 2010-07-20


Age

: 31


Location

: Gympie Qld




---
Permissions in this forum:
You
cannot
reply to topics in this forum