Page 8 of 8 •

1, 2, 3, 4, 5, 6, 7, 8

First topic message reminder :
After 4 days trying to fix my ruining problems of no power, top speed of 10 kph OR 110 kph and no acceleration. I traced the fault to the fuel pump assembly. Sometimes it would work, other times it wouldn't. Pressure was either good or poor. It looked like a dodgy fuel pump which Suzuki want $700. If i had taken it to a dealer they would have replaced the assembly which would have fixed the problem but cost me $1000.
I'm unemployed at the moment so that was out of the question. I doubt VERY much I'm the only person to have this problem in the past
or future.
Photos and instructions following

Last edited by 2wheelsagain on Sun 22 Feb 2015, 1:55 pm; edited 2 times in total (Reason for editing : Split photos from opening post to make page scrolling easier)



Posts

: 5742


Join date

: 2010-11-23


Age

: 67


Location

: Cygnet ,Tasmania



---
@gus

wrote:Thanks guys, I better keep working. The actually small pump can easily be tested by putting it in a bucket of fuel. Extend the wires a couple of feet to a battery, blue wire positive black wire earth (its marked). It will "jump" a little when connected and then be smooth, flow should be strong.

Reassemble everything, put it back into the bucket and retest. With mine flow (assembled) was good sometimes and poor the next time making it look like a faulty pump. The pump on its own  ALWAYS had good flow. Ever thing in the assembly is basic, no springs, no ball bearings nothing there to confuse any one. The pressure reg. can be tested with a home compressor. Air should pass through it at 45 + psi (not less) use a pointy nozzle and watch com pressure gauge.

Looking at the hidden mesh screen(you can just see it from underneath) IT LOOKED LIKE NEW, SHINNY NO DIRT, BUT IT WAS LIKE IT HAD A

CLEAR VARNISH ON IT. ONLY NOTICEABLE WHEN YOU SCRATCHED IT WITH THE COPPER WIRE.

All the pump assembly parts below

Below. This part of the assembly where i am pointing is where the pump fits into.

Underneath that little hole is a mesh screen (believe me) insert a stripped end (copper) Of wire and use like a toothbrush. 

Insert wire from other side and repeat. You will feel the mesh screen

You will see gunk appearing. Wash out with boiling water. Repeat and repeat again.

Reassemble after cleaning and checking every thing else.

In the last 4 days i could only get 15 kms. Today i did 130 and it ran like a charm. Now i wonder how many good pumps have been chuck away worth $700. It might not work for you, but it has got to be worth a try before you give it to the dealer. They will say you need a new pump for sure.
Have we lost the photos due to photobucket changes?

_________________
2011 GSX1250FA in Candy Indy Blue
2018 BMW R1200RS Exclusive



Posts

: 4125


Join date

: 2011-10-19


Age

: 55


Location

: Carrum Downs, Victoria



As you may know I was having trouble fixing my acceleration woes. Luckily I scored a 2016 Fuel Tank off a 1500 km bike for a great price with pump assembly and cap included. Notice the change to the casings in the newer white item. My bike is running sweet now. I believe my fuel pressure regulator was bad. I had replaced the internal pump and replaced teabag filter and cleaned the screen to no avail. Glad I cleaned the Idle Speed Control Valve as well. Anyone in the Sunshine Coast area need help with their fuel pump, I'm a gun at getting them out now, give us a hoy.
This may be a dumb question, but is the fuel pressure regulator on that assembly?



Posts

: 3867


Join date

: 2010-08-03


Age

: 60


Location

: Bega, NSW



The pressure regulator is the last white section of the pump, the bit that we scrape to clear the small filter.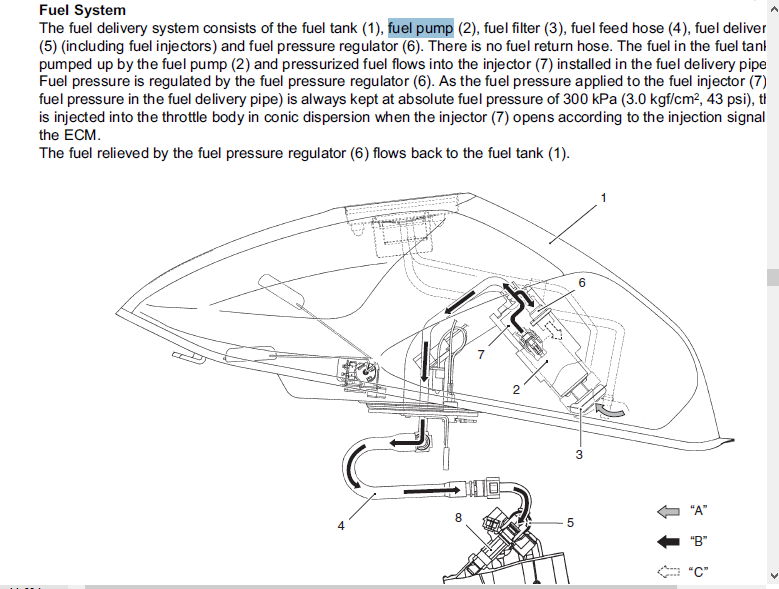 _________________
Hacks - more smiles per mile  

Red 2007 GSF-1250S with SRK Premier Sidecar



Posts

: 1692


Join date

: 2010-04-10


Age

: 61


Location

: Hillwood, Tasmania



Fuel pressure regjlator
Thanks for that  BM & BBS - I thought the regulator might have been ... not sure what I thought actually, but thanks anyhow. 




Posts

: 3867


Join date

: 2010-08-03


Age

: 60


Location

: Bega, NSW



Sorry about all those pics up there Ewok, first time I had uploaded on my phone....yowzer.
 If you go back to page one, Gus has all the pics there of it pulled to bits. My manual says not to remove the fuel regulator from the casing...doh. Being a "bull at a gate" I did not see these earlier pics or if I had, did not peruse them again.

I will, pull my old fuel regulator out and see if I can get a spare pump into action. I probably haven't cleaned the screen properly and the regulator is okay.

You must have sold that bike 10 time buy now .lol You and Terry should do a trip down .



Posts

: 5742


Join date

: 2010-11-23


Age

: 67


Location

: Cygnet ,Tasmania



Page 8 of 8 •

1, 2, 3, 4, 5, 6, 7, 8

---
Permissions in this forum:
You
cannot
reply to topics in this forum